Brief
The demand for rhino horn in Asian countries remains one of the main driving forces behind the escalation in poaching of rhino in Southern Africa, with more than 80% of illegally trafficked rhino horn passing through Vietnam, either for local use or for export to other countries.
Currently approximately 4 800 black and 20 000 white rhino are fighting for their survival in the wild. If the current poaching rate continues it is possible that by 2025 all rhinos in the wild could be extinct.
Solution:
Strategically, Boomtown and the Wilderness Foundation Africa sought to tackle the issue at the source, Vietnam, where the use of rhino horn is considered a status symbol for many middle to upper class families. The Rhino Ranger Super Hero Comic Book was specifically developed for children from 'wealthy' households.
As part of the Wild Rhino Competition, a Youth Ambassador Awareness and Education Campaign, the overarching goal of the Rhino Ranger Super Hero Comic Book was to ignite a passion for conservation, whilst motivating young Vietnamese to not use rhino horn. With the aim being to systematically change a generation's mindset through our Rhino Ranger Super Hero Comic Book series.

With the help of Rhino Ranger, 500,000 Vietnamese were reached through the Vietnam reduction campaign. While 80, 000 comics were distributed to more than 15 international schools in Vietnam. Since the campaign's inception, there have already been reports of a tremendous decline in Rhino poaching, which means there is hope for younger generations yet.

Client:
Wilderness Foundation Africa
Agency
: Boomtown
Role:
Graphic Designer
Illustrator:
 

Unathi Dyani
Following the rarely publicised subject of Rhino horn poaching, save only for certain pockets of animal conservationists across the world wide web, the Wilderness Africa Foundation Africa wanted to tackle the problem in a fascinating way. Instead of talking to an older generation who has accepted things for what they are, the idea was to appeal to the younger generation - schoolchildren - who can be educated on the dangers of Rhino poaching and have them become the positive change wildlife needs.
To do this, we needed an icon, a figure, a hero that could be identified with, whose story could be followed as a reason to stop the scourge of rhino poaching. Enter Rhino Ranger, a Rhino whose mother was butchered out in the African wild for her horn, for it to be sold in the Vietnamese black market. Rhino Ranger was then taken to a Safe Haven where he was shielded from poachers, before growing up to want to make a change and fight poachers.
So our story follows his journey from Africa to Vietnam in pursuit of preventing poaching and saving Rhino lives, in the form of a two-part comic book series.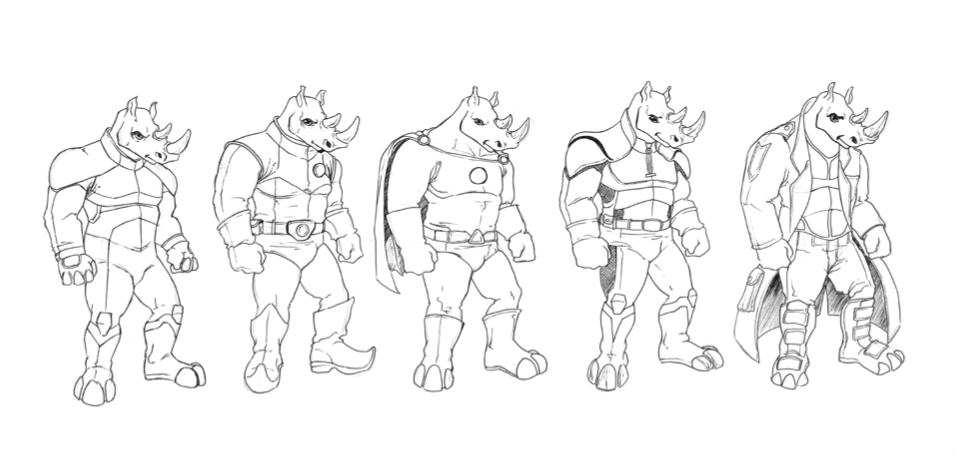 The challenge, much to what many may think, wasn't writing the story (in which Michael Coetzer did a Stellar job), but the character's design. We knew we wanted to have him be big, as rhinos are, but also friendly-looking at the same time. We had our character in various costumes, from which client chose one.
After having solved the designer, we had Bernie Diener Studios to do a 3D render of Rhino Ranger because we needed to see how it would look as a mascot before shipping it to Vietnam.
Then the games began! We developed the comic book from scamp to colour, and it came out beautifully!